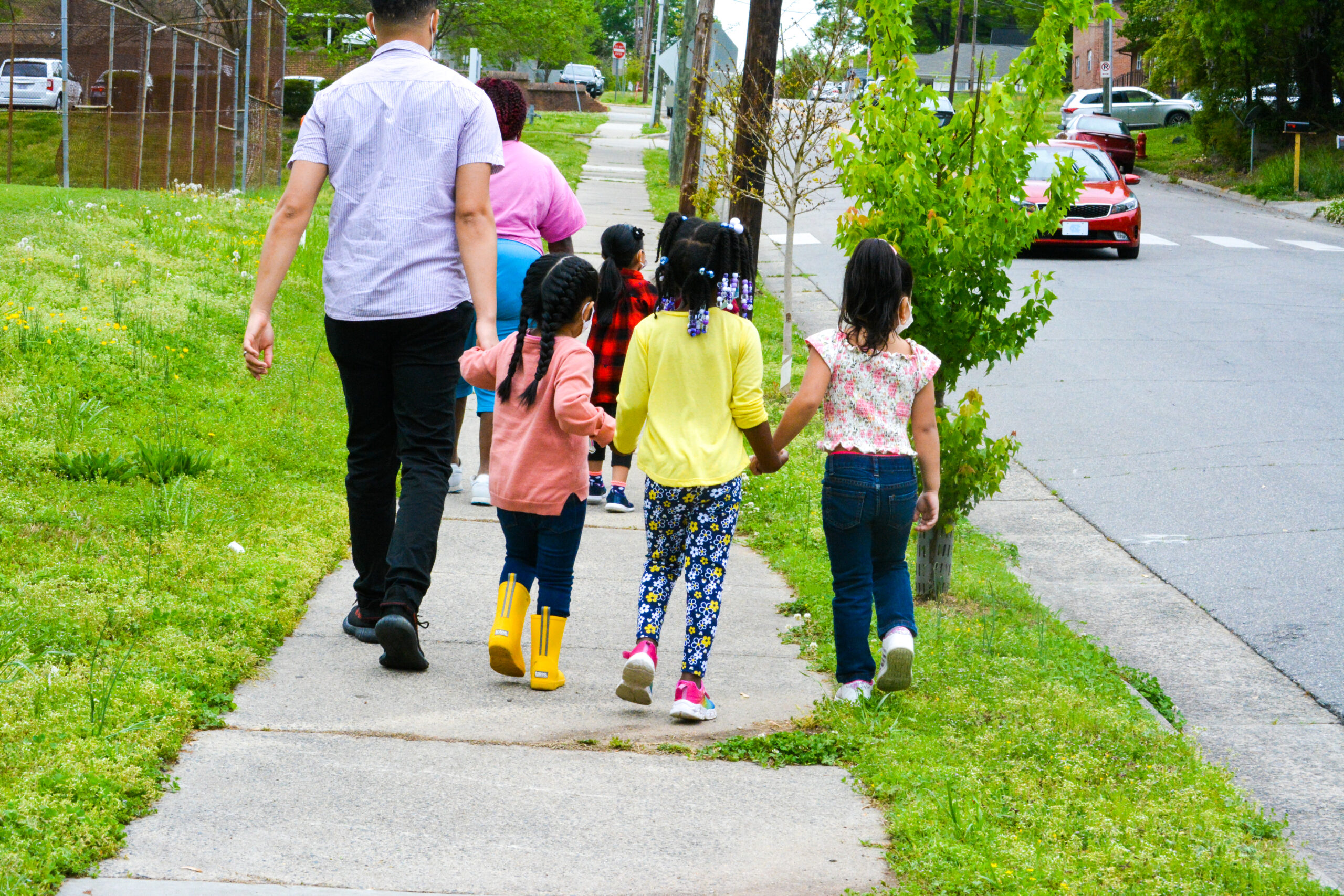 Durham's Early Childhood Action Plan: Imagining a More Just, Equitable Durham for our Youngest Children
In 2019, Governor Cooper released North Carolina's Early Childhood Action Plan. The plan sets forth a bold vision for North Carolina's children, focused on making steady progress towards achieving ambitious goals relating to children's health, safety and well-being, and developmental and academic readiness for school.
Durham County is the first county in the state to go through the process of creating our own local set of strategies, specific to Durham's unique assets and challenges, in order to act quickly to meet the goals established in the Governor's plan. Once implemented, the Durham Early Childhood Action Plan (ECAP) will result in an aligned and sustainable early childhood ecosystem that addresses disparities in early childhood outcomes in Durham County. ECAP is rooted in the belief that every child in Durham is precious and worthy of having everything they and their families need to thrive. 
Durham is fortunate to have a local government that deeply understands the importance of the early years. As Board of County Commissioners Chair Brenda Howerton stated in a recent work session, "Caring for our young children continues to be one of the most important things that we do in this community and that, as a board, we continue to support in every way possible."
To develop the Durham ECAP, the Durham Children's Initiative (DCI), with support and funding from Durham County, has brought together parents, caregivers, community members, and early childhood providers. Collectively, we have worked to envision a safer, more just, and more equitable Durham for our children to grow up in. Hundreds of people across Durham have poured their hearts into developing this plan. We look forward to sharing it with the Durham community this summer.
The planning process got off to a slower-than-anticipated start as COVID-19 spread rapidly across the country and throughout Durham. The COVID-19 crisis harshly spotlighted the racial and economic inequities that plague our community and which keep children from reaching their full potential. The crisis—and the protests that followed the murder of George Floyd and other incidents of racial violence—made it even more urgent for us to continue on with this work focused on our youngest Durhamites.
Becki Planchard, Senior Early Childhood Policy Advisor at NC Department of Health and Human Services reminded us during the Durham ECAP kickoff Zoom, "We are living in a time when everything is on fire and everything feels like a challenge. Now is the perfect time to prioritize young children's wellbeing – our most vulnerable children's wellbeing – because when you do that, you lift up everyone."
"This work is about making sure that we see ourselves in every person and it starts early with children," says City Council Member DeDreana Freeman. "We need to ensure they have the support they need in education, mental health, preventative care, public safety and so much more."
The Durham Early Childhood Action Plan has been developed over the course of the past year with the partnership, participation and leadership of families, communities, direct service providers, nonprofits, and institutions from across Durham. In the fall, they worked together in workgroups focused on one of four ECAP themes: ensuring children are healthy, safe and nurtured, learning and ready to succeed, and have their basic needs met. Together, the ECAP workgroups reviewed local data related to the statewide ECAP targets to see where we lag; identified strengths and weaknesses of our early childhood system; brainstormed ideas for action; and prioritized hundreds of potential strategies.
Most importantly, the Durham ECAP was informed by the wisdom of more than 1,000 parents, guardians and caregivers raising young children aged 0 to 8 here in Durham. The planning process has shifted along the way to center the voices of those with lived experience – parents and caregivers who have navigated the early childhood system themselves and therefore know what needs to change.
As Tiffany Solomon, a parent of three children in Durham shared, "Being a part of this experience really means a lot to me personally. It means that other families will get a better shot at their children's wellbeing from the very beginning on. I just appreciate being able to give voice to personal experiences here in the community and hopefully make an impact."
David Reese, President and CEO of the Durham Children's Initiative (DCI), emphasizes the importance of this collaborative approach. "This is what makes this planning process really special. We have worked really hard to ensure there are a diverse group of voices back in this process. I want parents across Durham to look at this shared plan and say, 'I see my two cents in there.'"
Parents and guardians have shared their dreams and their struggles to inform this plan. They also shared ideas for how Durham can be a better place for young children and the families raising them. These ideas became the basis for the 21 recommendations that are included in the Durham ECAP. Since the winter, 21 action planning teams comprised of over 100 parents, caregivers, community leaders, and early childhood providers have been proposing strategies to bring each recommendation to life.
"I really salute Durham for even considering such space for the community to have a seat at the table that we don't normally have a seat at," described Randy Trice who leads a group called Fatherhood of Durham. "ECAP is very important and I hope that we continue creating space such as this and not just hearing our thoughts but putting action to our thoughts and our feelings."
This is an exciting time to be focused on early childhood, particularly in light of strong federal support and funding. The American Rescue Plan expands eligibility for early childhood programs, increases the value and availability of tax credits for families, and provides substantial funding increases to public programs serving families and caregivers.
We will soon have an Early Childhood Action Plan in Durham that aligns our services, communities, and resources around shared goals and priorities in support of our youngest children. This is a unique opportunity to come together and reimagine a better world for our children. We look forward to building on the national, state and local momentum in support of early childhood and hope that you will join us.