Supporter Spotlight: Minnie Forte-Brown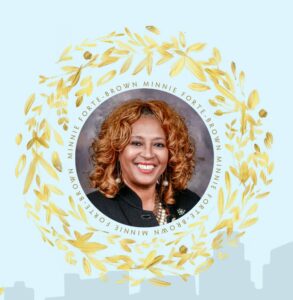 "I'm a living example of what can happen when your teachers, your community – when your village – has high expectations of you and when the village marks you as good." DCI founding board member Minnie Forte-Brown quotes Clifton L. Taulbert's "Once Upon a Time When We Were Colored" as she reflects on her past and what has brought her to where she is today – an accomplished leader and educator, champion of equity, and now the namesake of the Minnie M. Forte-Brown Staff Development Center.
Minnie Forte-Brown is a Durham native who grew up in segregated schools throughout her education. "I always had the best teachers – I have never ever missed a beat. My education has not been hampered at all, so that's why I know what can happen – because me and my colleagues never knew that there was anything other than excellent." Forte-Brown has always shown a strong commitment to education and now holds a Bachelor's degree in speech and English from Saint Augustine's University and a Master's degree in speech pathology and audiology from North Carolina Central University.  She served on the Durham Public School's Board of Education for 16 years, served as Chair of the National School Board Association's Council of Urban Boards of Education, and is a semi-retired professor at North Carolina Central University, among many other incredible experiences and honors.
It was during her time as a member of the Durham Public School's Board of Education when she was approached with the idea of the Durham Children's Initiative. Not long after, a small, dedicated group of people would travel to Harlem to visit the Harlem Children's Zone, the model that was used to create the Durham Children's Initiative. Forte-Brown decided that "I would like to see us … replicate what they're doing in Harlem in a public setting." So that's just what the group did.
They began by identifying the connected Durham public schools with the lowest reading and math proficiency rates – Y.E. Smith Elementary, Neal Middle School, and Southern High School – and began listening to families and meeting their specific needs by providing wrap-around supports. "If a kid cannot come to school because he doesn't have sneakers, then it's our job to go get him sneakers … DCI didn't have statewide initiatives, but they knew that children needed positive behavior interventions. They knew that there had to be multi-tiered systems of support – that you couldn't just do one thing in isolation and think it would work with children. So wrap-around services connecting families with mental health and emotional health – navigating those kinds of ancillary services that are in our community – DCI did that. All of those things DCI realized (families needed), they partnered with the schools to help them (receive)."
DCI has seen immense success in the lives of their young people and the opportunities that they have had access to. Forte-Brown talks about students going on to graduate and achieve incredible things. She talks about students knowing that they had a safe place to go within their community; knowing that they would receive the best supports available through DCI. The program became, and continues to be, so successful that communities nationwide reach out to explore the possibility of replicating DCI in their own communities. "We were so well-recognized that first lady Michelle Obama came and met with our kids on the tarmac."
From the beginning, DCI has been focused on building pathways to equity for Durham students and families. Minnie Forte-Brown explains DCI's commitment to equity and what equity means for her personally: "Regardless of my starting point, I have the same opportunities to reach the finish line that you do. Because I have been given those resources – the wind is going to be at my back to get me there and you are going to do whatever it takes to help me get there. You're going to do what it takes to get me to the finish line." 
DCI has continued to hold true to this purpose of building pathways to equity and are now proud to be county-wide, bringing empowerment to students and families throughout Durham County with the help and support of our funders and incredible board of directors.
Now, DCI is proud to celebrate with Forte-Brown as her numerous accomplishments are recognized through the naming of the Durham County Board of Education's Staff Development Center in her honor. "The only way we get better is that we develop and strengthen the skill set that we already have. That's what staff development is about. We make the vision real by developing those buds that we have so that they blossom in our classrooms and that's the same kind of blossoming that we want to have and we want our children to have … I am forever proud that my name is attached to the development of great teachers and enormously talented staff that move our children to proficiency and beyond."
Photo courtesy of Durham Public Schools:
https://twitter.com/DurhamPublicSch/status/1383094498092331028/photo/1